General Hospital
General Hospital Spoilers: Did Nikolas Cassadine Shoot Austin-Gatlin Holt?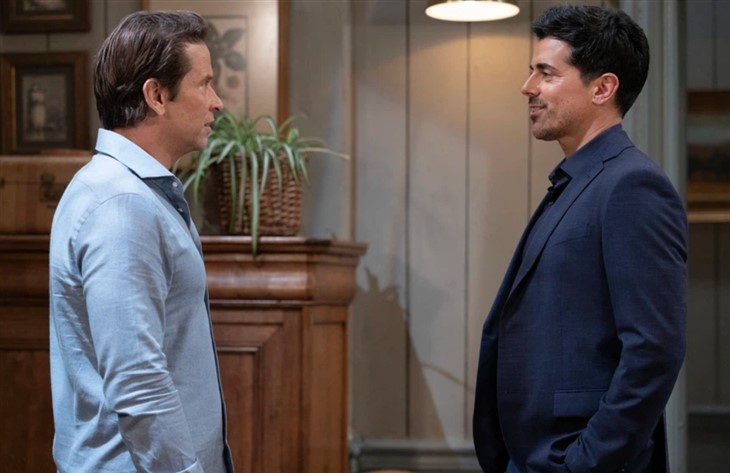 General Hospital spoilers and rumors tease Nikolas Cassadine (Adam Huss) could have been who shot Austin Gatlin-Holt (Roger Howarth).
The shooter had to have a key to Austin's house, which was the same one he kept Nikolas in, and Austin knew his shooter-he was surprised to see him there.
General Hospital Spoilers – Cyrus Renault Will Be Blamed
When Austin is found, probably when he doesn't show up for his shift at GH, the immediate assumption by Sonny Corinthos (Maurice Benard) will be Cyrus Renault (Jeff Kober) did it.
Oh, Cyrus will have an alibi-he was all over town at the time, including to see his sister, Laura Collins (Genie Francis) to tell her he got a job.
Cyrus claimed he was washing dishes at the Port Charles Grille; Mason Gatlin (Nathanyael Grey) is already in the holding section in Pentonville so it couldn't be him.
Austin had gotten into a small argument with Cyrus at GH earlier, and he'd also been in an argument with Ava Jerome (Maura West).
Then he'd gone to the PCPD to offer incriminating evidence up to Dante Falconeri (Dominic Zamprogna) but he was shot before he could go back and give it.
GH Spoilers – Sonny Corinthos Or Ava Jerome Could Turn Cyrus Renault In
Both Sonny and Ava know that Mason and Austin were working for Cyrus, so either one could tell Dante-and probably will after Austin is found.
There's one other person that could have been in Austin's house waiting for him-and he would have had a key; Austin was surprised, but not angry or afraid.
Austin's demeanor wouldn't have been so calm had it been either Cyrus or Ava, and besides, neither one of them had a key-but Nikolas does. And, if someone got back to Nikolas that Austin slept with Ava, even though Nikolas claims to be over her, his jealousy could have enraged him!
Cassadines don't generally take too well to betrayal, and Austin, someone who Nikolas considered his friend, slept with his woman-that's a betrayal!
General Hospital Spoilers – It Takes Two To Tangle
However, Ava may be in danger now too, because she'll be in for a reckoning with Nikolas-after all, it takes two to tangle sheets!
Besides, Ava tried to kill him-he knows that gargoyle didn't fly into the back of his head magically, she threw it. Austin saving his life only to go after his ex-wife-ex or not, wouldn't sit well with Nikolas, who still has feelings for her.
Austin's house is the one place Nikolas could have gone if he wants to be in or near Port Charles without being observed. As for who told him Austin slept with Ava, that most likely was Mason!