Uncategorized
Days Of Our Lives Spoilers Tuesday, May 16: Freedom Quest, New DiMera, Xander's Guilt
Days Of Our Lives Spoilers Tuesday, May 16: Freedom Quest, New DiMera, Xander's Guilt
Days of Our Lives spoilers for Tuesday, May 16 reveal that Kristen DiMera (Stacy Haiduk) presses Megan Hathaway (Miranda Wilson) about their freedom quest. A new DiMera is unveiled. Meanwhile, Xander Cook (Paul Telfer) is vulnerable with Chloe Lane (Nadia Bjorlin). Elsewhere, Brady Black (Eric Martsolf) opens up to "Jarlena."
Days Of Our Lives Spoilers – Freedom Quest
DOOL spoilers for Tuesday, May 16 reveal that Kristen will be on pins and needles as she claws the prison cell walls. Kristen is anxious to get out of jail but needs Megan's help. Megan seems so confident but isn't revealing too much either.
In Tuesday's episode, Kristen will get impatient with Megan. Kristen will pressure Megan about the freedom quest. Megan might be waiting to see if someone else plays their part. Megan's plan probably has stages and before she can make a move, the previous move needs to be completed.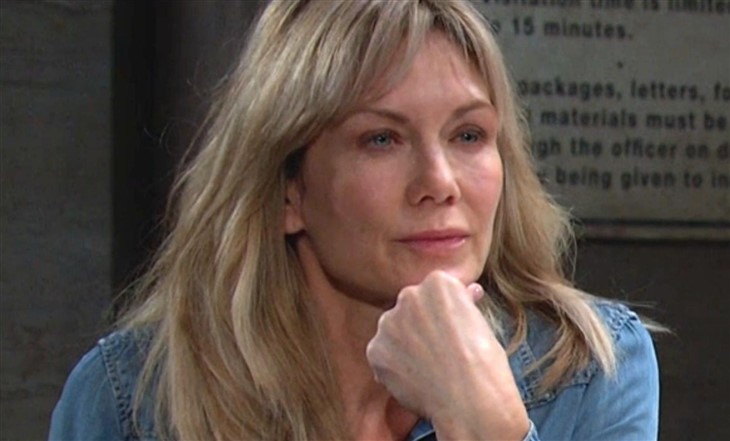 That "move" just might be Dimitri von Leuschner (Peter Porte). In Soap Opera Digest, Porte mentioned that Dimitri was a broken man with a good heart. The actor added that Dimitri kidnapped Kate Roberts Brady (Lauren Koslow) to help someone else. Could that person be none other than Megan?
DOOL Spoilers: Xander Cook's Guilt
On Tuesday, May 16, fans can expect Xander and Chloe to continue getting closer. To Brady's horror, Chloe and Xander became roommates. Even though nothing romantic has happened yet, fans are predicting a brief fling for these two characters.
In the meantime, Xander will get vulnerable with Chloe. Xander will open up to Chloe about Susan Banks' (Stacy Haiduk) death. That will probably include how he struggled to provide for Sarah Horton (Linsey Godfrey), which led him to accept the "job" from Ava Vitali (Tamara Braun).
Days Of Our Lives – Brady Black Distraught
Days of Our Lives spoilers for Tuesday, May 16 reveal that Brady will still be distraught over Chloe's decision. Brady forgave Chloe for saying she hated Rachel Black (Finley Rose Slater). However, Chloe insists that they can't be together, and it will never work.
Brady will turn to John Black (Drake Hogestyn) and Marlena Evans (Deidre Hall). Will "Jarlena" have some words of wisdom for Brady?
DOOL Spoilers – Tuesday, May 16
In Tuesday's episode, fans will see a new DiMera. There are rumblings that the new DiMera could be Dimitri. If this is the case, who is Dimitri's mother? Is it Megan or someone else?
Which storyline are you looking forward to seeing the most on Tuesday, May 16? Share your thoughts in the comment section below. Remember to keep watching the soap on Peacock to find out what happens next.